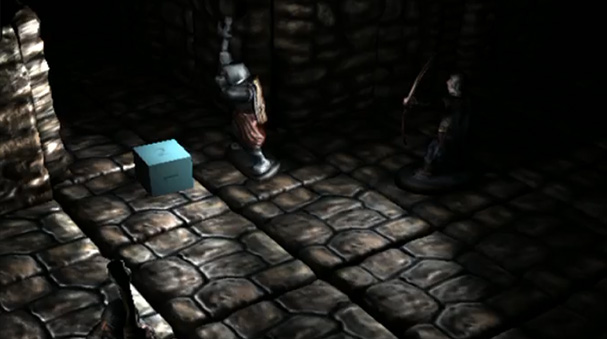 There are a few instances where I break the verisimilitude of the tabletop metaphor to add utility and enhance the player's experience. The first of those is the line-of-sight calculation. The second is player lighting.
What can my player see? is a question that comes up often at the gaming table. At it's simplest, you can just just compare, say, the light radius of a torch against the distance of the things you are looking at. A clever GM may even attempt to determine if something is hiding behind a corner, or is in the shadows. It's often difficult, too, to make sure that the characters all stay together around the torch bearer or the wizard's light spell. Tabletop Connect eliminates all of that guesswork. Combined with line-of-sight calculations, you'll know exactly what the character can see. Right down to what's hiding in the shadows.
The player lights are fully controllable, with a few useful presets: none, torch, lantern, and flashlight. Each has a unique look that lends the feel of their real-world counterparts. Whether it's the flickering torch, or the limited view of the flashlight, you'll experience a whole new level in tabletop gaming.
Tabletop Connect - First Look at Player Lighting from C. Lewis Pinder on Vimeo.

Also available on YouTube: