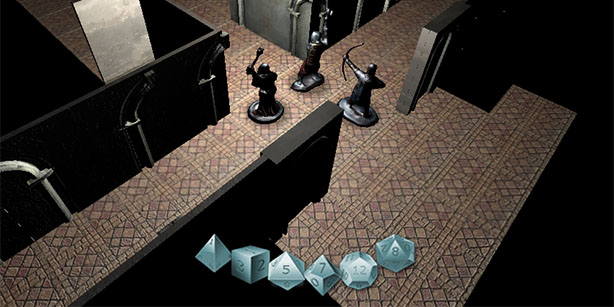 You can only work in a vacuum for so long, before hands-on feedback is necessary. And this is that time. Now's your chance to take some miniatures out for a spin and let me know what's working an what isn't.
Miniature controls
Left-click on mini - selects mini
Left-click and hold/move left or right - rotates mini
Left-click and hold/move up - lifts mini
Camera controls
Right-mouse button or Left ALT key - orbits camera
Middle-mouse button - moves camera
Scroll-wheel - zoom camera
Dice
Left click on any die to roll two of that die. (Note: the d4s do not return the correct result.)
Map
The visible portion of the map is determined by the line-of-sight and by distance. The mini can "see" up to 120′.
Any part of the map that has been "seen" will be shown as a 2D map when no longer visible.
I'm looking forward to any and all comments. [Edit: A quick note based on some feedback that I've had so far: 1) the final product will be a standalone program, it's running in the web player so I can get comments; 2) the ALT orbit is a workaround for the Unity player pop-up that appears when clicking the right-mouse button. If you right-click and choose full-screen, if pop-up goes away.]